Homepage : https://www.link-assistant.com/rank-tracker/
Why Rank Tracker ?
If you think that a keyword rank checker tool providing unlimited data doesn't exist, you've never tried Rank Tracker. Track keywords with no limit, check positions in SERPs, see rankings for the exact location, and analyze the ranking performance of any keyword — all in one rank checker tool.
Keyword position monitoring, as advanced as it gets.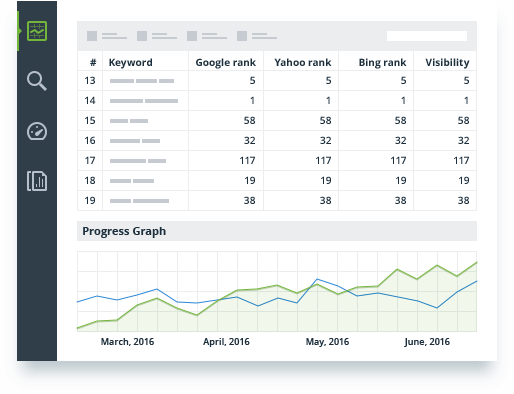 Rank Tracker is the most customizable rank checker tool you'll come across. Whether you need to check positions for your site globally in Google SERPs or locally in any of the tool's 400+ search engines, scan top 50 or top 1,000 search results, run the check once a week or 3 times a day, monitor Universal and Map listings, and track keyword ranks of your competitors … The utility got it all. The best part is, everything is unlimited in this keyword position checker — including websites, search engines, and keywords to track.
Get a paid Rank Tracker license to be able to :
Check rankings in 566 international and local search engines. And if the search engine you need is not among our supported search engines, just request it to be added.
Save and load you ranking monitoring projects. You'll be able to access your rankings history any time you want.
Schedule automatic rank checks. Your rank checks will run on auto-pilot on the predefined dates and times.
Add multiple competitors' websites to one rank monitoring project. You can add up to 5 competitors for the Professional license and up to 10 competitors for the Enterprise license.
Create professional rankings reports for clients. With the Enterprise license, you can create reports in both HTML and PDF to print them out, send them via email, or published them to the Web.