Homepage : https://www.link-assistant.com/linkassistant/
Hundreds of link opportunities at a click.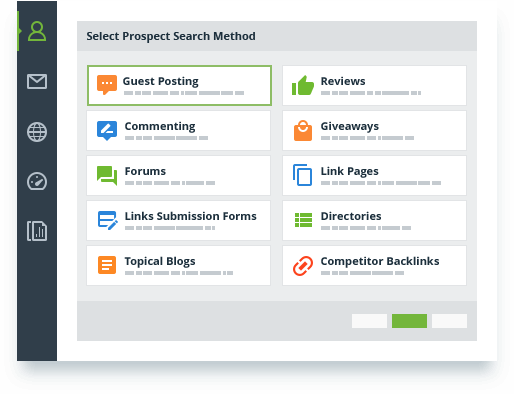 Choose your research technique from 10 most effective prospecting mechanisms (guest posting, directories, reviews – you name it), or create your own research method with any search operators of your choice. In seconds, LinkAssistant will find hundreds of most relevant prospects for you. This is a huge time-saver for any SEO.
More Features :
High quality link prospects.
Easy outreach right from the app.
One-click link verification.
Customized link building reports.
Finds loads of valuable link partners.
Easily qualifies your link partners.
Takes complete control over your email.
Makes link directories fitting your site like a glove.
Monitors your backlinks over time to make sure they're as effective as before.
Lets you conveniently manage link partners — by the hundred, if you need it.
Gives you access to the fully-functional integrated web browser.
Generates impressive link building reports.
Seamlessly works with hundreds of search engines.
Ensures you stay 100% search engine safe and friendly.
Supports working from behind a proxy.
Lets you organize your worspace the most convenient way.
Allows you to import and export your link partners.
Estimates results of your link building campaigns.
Works on any operating systems.
Multilingual
Get a paid Website Auditor license to be able to :
Find unlimited link building opportunities for your website.
Manage all your link data in one convenient working area.
Verify each of your backlinks.
Save and load your link-building projects.
Schedule automatic link verification.
Create professional link-building reports for clients.
…